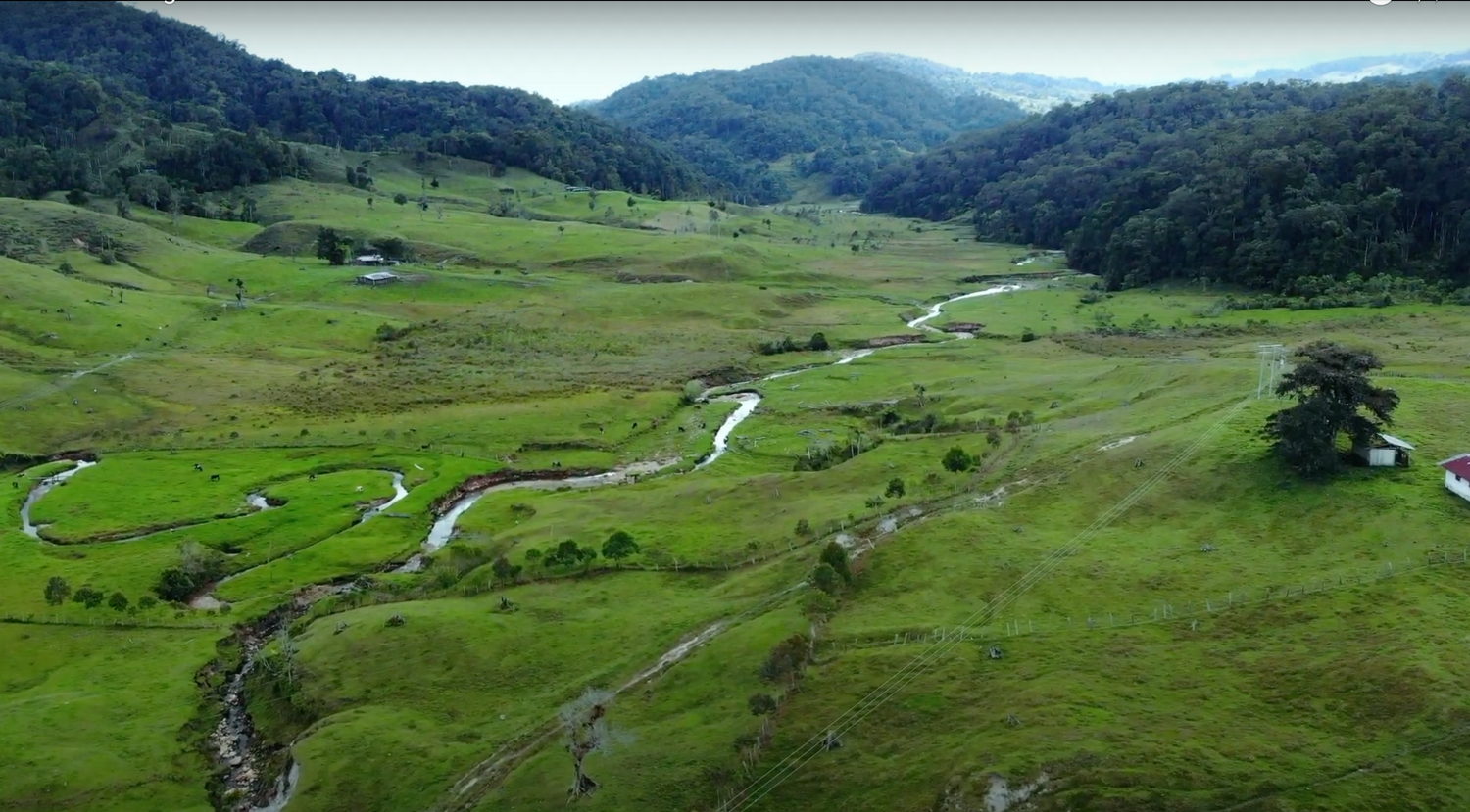 The ASPROCAAR group, made up of 13 small producers within the La Argentina municipality in Huila, is making great steps towards fully organic agricultural practices.

La Argentina is a zone with high rainfall and soils rich in organic matter. Producers there have traditionally retained old varieties, and this western part of Huila has historically been overlooked by private exporters. Shared Source has been working with producers who now make up ASPROCAAR since 2015. Shared Source has been working closely with them to find solutions to some of the problems that the group has experienced, mostly in coffee drying practices - donating moisture meters, requesting that parchment be properly stored in Grain Pro bags (and donating the Grain Pro), and suggesting that producers bring parchment down from high-altitude farms (that are prone to heavy air moisture and re-humidification of dry coffee) to the group's warehouse in town.

Shared Source pays premiums for ecological production- this group is committed to healthy farming, wanting to use as little chemical fertilizers as possible. Many create their own compost onsite, reducing farm costs and tending to the land with a view towards the future.

Luis Alberto is just the sort of producer that we here at Broadcast love with work with - committed to quality, and part of an emerging group of producers.

This pink bourbon is a washed process. First, he starts the fermentation process by leaving the whole cherries intact for 30 hours in sealed drums (the fermentation process starts where the cherry is plucked from the tree, as yeasts and natural bacteria begin the process). From there, he de-pulps the seeds, and leaves it for close to 80 hours for a low oxygen fermentation in sealed pickle barrels. He has raised beds, and his coffee usually dries in 15-20 days.
Cost Transparency
At Broadcast, we believe that transparency is key to building authentic,  meaningful & sustainable relationships from seed to cup (along the supply chain). From coffee producers and import partners to our cafe team and amazing customers, our guiding value is to spread love and acceptance every step of the way. We source boutique coffees from family farms & coops. We purchase coffee equitably and value building relationships over profit. We are proud to share a snapshot of what this journey entails and insight into the industry at large.
Cost to Broadcast - 10.36
Green Cost - 5.75

The cost for green coffee is inherently complicated given the vastly diverse global nature of our industry.  Without context, green cost alone can have different meanings depending on the step at which money is transferred along with payment and contract terms. We have outlined various industry terms below to provide a framework for varying stages along the supply chain.   

Farm Gate: Price paid at farm level to producer or producer community 

FOT (Free on Truck): Price paid to exporter, after coffee has been processed and ready to be transferred to port for export.

FOB - Free on Board: Price paid to importer, at outbound port level.

EXW (Ex-warehouse): Price paid to importer at point of arrival at US warehouse
Transportation Cost - $.16 | $5 to your door

This represents the cost we incurred while the coffee was moved from the producing country to our roastery in Seattle. Costs include shipping, holding, airfreight, trucking.

Additonally, we factor in the cost of shipping from our roastery to your door.
Production Cost - $4.19

This section outlines the costs associated with producing our coffee and getting it to the finish line for your enjoyment!

Fixed Costs:
These are the simple costs of having a business and running our roastery: Rent, utilities (gas, electric, water, internet, phone), business licenses etc. We recently installed a larger custom natural gas roaster allowing us to roast larger batches with further control to dial in the coffee with even more care & attention.

Packaging:
This includes everything that goes into packaging coffee to get from our roaster to your hands: recyclable bag, mailers, bulk shipping boxes, labels, and tape. We strive to create a beautiful aesthetic that matches the intended coffee experience while consistently keeping our environmental impact in mind.

Labor:
We are incredibly proud of our small hard-working team dedicated to our vision of spreading love through great coffee & hospitality. Our goal is to create a stable work environment by providing a living wage, PTO & health insurance . As a queer-owned business, we work to foster a community environment and are proud to provide a safe & inclusive space for LGBTQ+ and other marginalized individuals. We support & encourage creative individual pursuits. We provide light and bright cafe/roastery spaces to temper the Seattle rainy weather. We work really hard, make time for rest, and take care of each other.

Coffee Roasting:
During the roasting process, coffee loses between 10-15% of its weight due to moisture loss. This creates an inherent loss as soon as we transform green coffee into the roasted product we all love! In addition to this process, it takes test batches to dial in our roasting profile and ensure you're receiving the best version.

Taxes:
Taxes are part of our world and we set aside money every quarter.


Storage & Finance - $.34

Working with small importers means we sometimes need to cover more of their costs and that includes us covering the cost for holding coffee in storage facilities when we don't have room at our facility. We also don't pay for coffee until it's released from storage, and are charged a finance fee for holding coffee. It's also easier for us to pay for coffee with a credit card and credit card processing fees are passed onto us as well.
Fair Trade & C Market Cost - $1.70 FT | $2.05 C Market

Fair Trade:
Fairtrade is a global movement to help improve the lives of farmers and workers in developing countries by ensuring that they have access to export markets and are paid a fair price for their products. Fairtrade aims to give farmers stability in this unpredictable environment by offering a Fairtrade Minimum Price, which protects them from sudden price drops. Coffee farmers also receive a Fairtrade Premium - an extra sum of money paid on top of the selling price that farmers and workers invest in business or community projects of their choice. A set portion of the Fairtrade Premium goes toward improving production or quality.

C Market:
The C Market is the global commodity exchange, similar to a stock exchange, where both the physical trade of green Arabica coffee and the trade of coffee futures contracts occurs. The C Market provides a global benchmark price for coffee. While other factors influence the final price that buyers pay for coffee, the fact there is a price reference is essential. Without the C price as a benchmark, determining the price of coffee on a global scale would be very difficult.
Explore our subscriptions